Find a Pest Control Professional
Rodent Awareness Week Infographic
Rodent Awareness Week is October 22-28, 2017 and the National Pest Management Association is sharing some eye-opening stats from its latest survey of more than 1,000 American homeowners to learn more about their experiences with rodents, such as mice and rats. The survey, conducted online by Harris Poll, found that 37 percent of homeowners have seen a rodent in their home in the past year, compared to 30 percent in 2013* who have ever had a rodent problem in their home. Check out the infographic below for additional findings.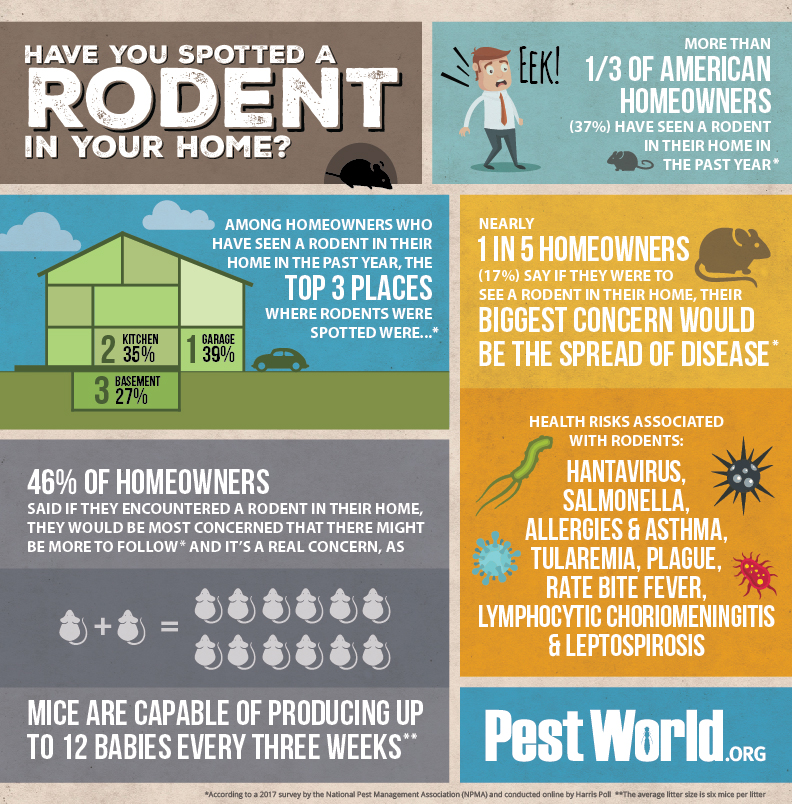 Have you noticed a rodent in your home?
More than 1/3 of American homeowners (37%) have seen a rodent in their home in the past year.

Among homeowners who have seen a rodent in their home in the past year, the top 3 places where rodents were spotted were garage (39%), kitchen (35%), basement (27%).

Nearly 1 in 5 homeowners (17%) say if they were to see a rodent in their home, their biggest concern would be the spread of disease

46% of homeowners said if they encountered a rodent in their home, they would be most concerned that there might be more to follow, and it's a real concern, as mice are capable of producing up to 12 babies every three weeks

Health risks associated with rodents: hantavirus, salmonella, allergies & asthma, tularemia, plague, rat bite fever, lymphocytic choriomeningitis & leptospirosis
This survey was conducted online within the United States by Harris Poll on behalf of NPMA from September 19-21, 2017 among 2,122 U.S. adults ages 18 and older, among whom 1,379 own a home (i.e., homeowners). This online survey is not based on a probability sample and therefore no estimate of theoretical sampling error can be calculated. For more information on rodents, visit our rodent Pest Guides.
Find a Pest Control Professional