Pest Control Jobs & Careers
Change People's Lives, Change Your Own
If you are looking for a rewarding career in an ever-growing industry and have a passion for helping people, a job in professional pest management might be the perfect match for you!
To explore pest control careers and job opportunities, visit PestControlJobs.com!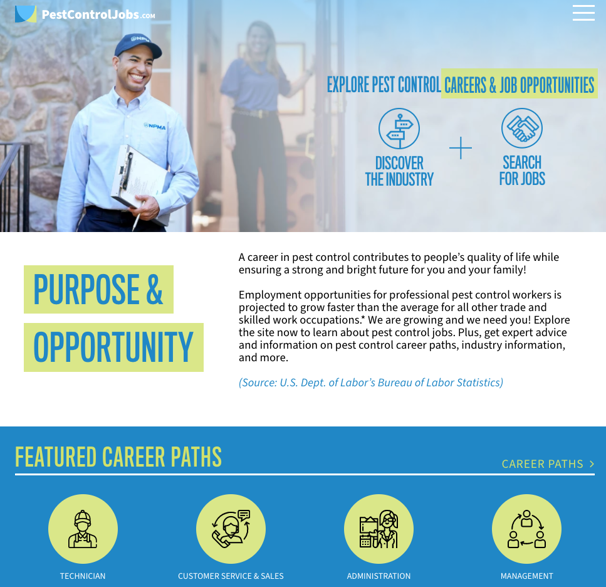 The website has everything you need to know about pest control career paths, industry information, and expert advice on how to take your first step into the industry.



According to the U.S. Department of Labor's Bureau of Labor Statistics, employment opportunities for professional pest control workers are projected to increase faster than the average for all other skilled work and trade occupations. These projections foreshadowing solid, stable employment opportunities and strong prospects for career advancement. As the industry grows, companies are looking to fill these positions with hardworking, driven individuals. Learn more about the current state of the industry, as well as exciting outlook for the future.
There are many career options available in the professional pest management industry – from field technicians to jobs in office management, sales, marketing and more. Check out the various positions and career paths available throughout the industry.
Not only do industry professionals enjoy the personal pride that comes from helping protect customers against pests, but most employers also offer flexible schedules and family-friendly work hours, competitive compensation and benefits, and opportunities for career advancement.  
In the professional pest control industry, there are opportunities for everyone, including military veterans returning to civilian life, women seeking a career track with work/life balance, and graduating students looking for a career path that offers great growth and earning potential. If you are ready to change other people's lives — and maybe change your own — join us!
Check out our live industry job board for available opportunities or contact an NPMA-member pest control company in your area. Companies in most every region of the country are hiring. For more information about pests or interview tips to help you land the job, check out these resources.