Pest Predictions: Experts Explain Why Pest Populations Are Rising This Fall & Winter
The National Pest Management Association releases Fall & Winter 2023 Bug Barometer® forecast for the continental U.S.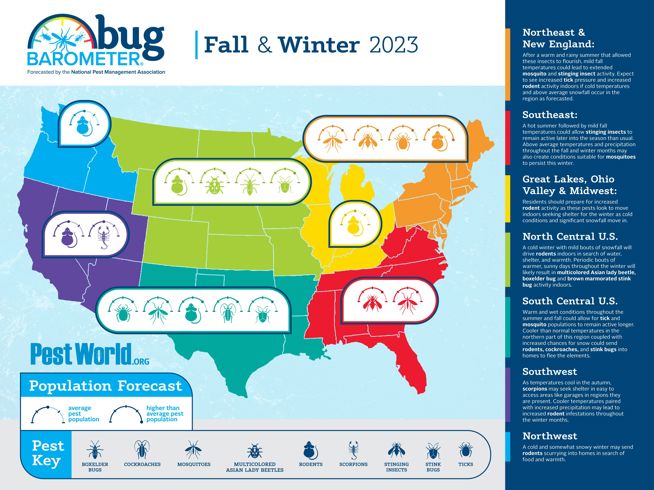 FAIRFAX, VA (September 26, 2023) – It's no question that pests are a year-round issue for homeowners, but did you know that various factors can significantly increase our likelihood of running into certain pest populations? After sifting through weather patterns, long-term forecasts and pest biological behaviors, the National Pest Management Association (NPMA) is releasing its bi-annual Bug Barometer®, a forecast to show Americans what they can expect from pest populations in their respective regions across the U.S. this fall and winter.
Much of the country was met with bouts of heat waves, humidity and thunderstorms this summer. With chilly and damp conditions just around the corner, NPMA's entomology team is expecting a pest-ridden fall and winter season ahead with increased sightings of rodents, cockroaches, and stink bugs, among other pests.
"It's important for Americans to know that the change of seasons can bring a lot more than a craving for pumpkin-flavored treats, "said Dr. Jim Fredericks, Senior Vice President of Public Affairs at NPMA. "Unseasonable weather patterns can brew the perfect storm for pests to thrive and, unfortunately, this may result in them infiltrating your home in search of warmth, food and shelter."
Based on their analysis, NPMA's Fall & Winter 2023 Bug Barometer® is forecasting a spike in pest pressure across the U.S.: 
Northeast & New England 
After a warm and rainy summer that allowed these insects to flourish, mild fall temperatures could lead to extended mosquito and stinging insect activity. Expect to see increased tick pressure and increased rodent activity indoors if cold temperatures and above average snowfall occur in the region as forecasted.
Southeast 
A hot summer followed by mild fall temperatures could allow stinging insects to remain active later into the season than usual. Above average temperatures and precipitation throughout the fall and winter months may also create conditions suitable for mosquitoes to persist this winter. 
Great Lakes, Ohio Valley & Midwest 
Residents should prepare for increased rodent activity as these pests look to move indoors seeking shelter for the winter as cold conditions and significant snowfall move in.
North Central U.S. 
A cold winter with mild bouts of snowfall will drive rodents indoors in search of water, shelter, and warmth. Periodic bouts of warmer, sunny days throughout the winter will likely result in multicolored Asian lady beetle, boxelder bug and brown marmorated stink bug activity indoors.
South Central U.S. 
Warm and wet conditions throughout the summer and fall could allow for tick and mosquito populations to remain active longer. Cooler than normal temperatures in the northern part of this region coupled with increased chances for snow could send rodents, cockroaches, and stink bugs into homes to flee the elements.
Southwest U.S. 
As temperatures cool in the autumn, scorpions may seek shelter in easy to access areas like garages in regions they are present. Cooler temperatures paired with increased precipitation may lead to increased rodent infestations throughout the winter months.
Northwest U.S. 
A cold and somewhat snowy winter may send rodents scurrying into homes in search of food and warmth.
"While we can't control weather patterns or pest biological behaviors, we can all rest assured knowing that we can take measures to prevent these pests from getting into our homes as the weather cools this season," said Fredericks.
According to NPMA's expert entomologists, it's best to eliminate any areas of moisture found in the home and keep your kitchen clean, storing food in airtight containers to keep pests out. Also, seal cracks and holes on the outside of the home and store boxes off of the floor to prevent pests from residing in undisturbed areas.
For more information about NPMA's Bug Barometer® forecast and to find a qualified pest control professional near you, visit PestWorld.org. 
###
About the National Pest Management Association
The NPMA, a non-profit organization with more than 5,500 members, was established in 1933 to support the pest management industry's commitment to the protection of public health, food and property from the diseases and dangers of pests. For more information, visit PestWorld.org or follow @PestWorld on Facebook, Twitter, Pinterest, TikTok and YouTube.