Find a Pest Control Professional
Lyme Disease FAQ: Health Info on Ticks and Lyme Disease
What is Lyme disease?
Lyme disease is a multisystem inflammatory disease that affects the skin in its early, localized stage, and then may spread to the joints, nervous system and, to a lesser extent, other organ systems in its later, disseminated stages.
In the United States, there are only two tick species that are known to transmit Lyme disease - deer (or black-legged) ticks (Ixodes scapularis) in the East and upper Midwest and the related western black-legged ticks (Ixodes Pacificus). As these two species are specific to only certain parts of the country, it's not surprising that the hyperendemic areas (areas with a high tick infection rate) of Lyme disease are principally the Northeast, followed by the upper Midwest.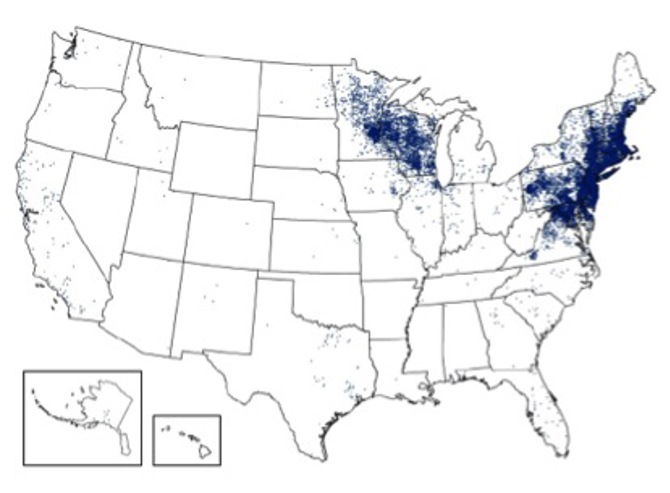 Because ticks are more active during the warmer months, as are people, doctors typically see the highest number of Lyme disease cases during June, July and August.
What are the symptoms and diagnosis of Lyme disease?
Most commonly, the first sign of Lyme disease is an expanding rash with central clearing known as Erythema migrans. This "bull's-eye" rash is the typical rash of Lyme infection, and occurs in about 70 percent to 90 percent of cases. It starts as a small red spot that expands over a period of days or weeks, with central clearing giving it a bull's-eye appearance.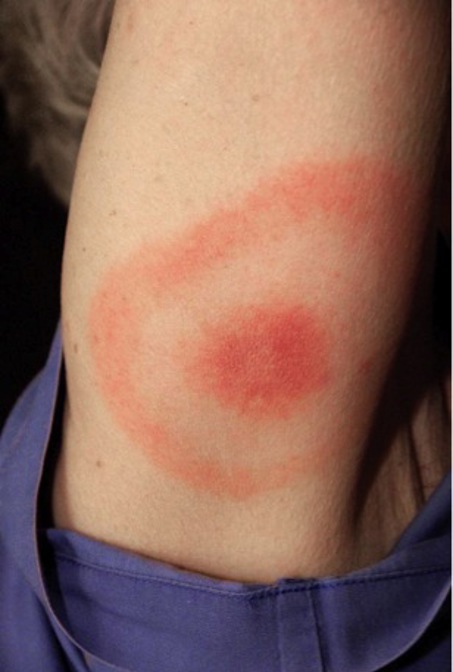 Other classic Lyme disease signs and symptoms include joint pain, chills, fever and fatigue. As the infection spreads through the body, involving the neurological system, increasing fatigue, headache, neck stiffness, tingling or numbness in the extremities or temporary paralysis of facial muscles can occur. More subtle changes such as memory loss, difficulty with concentration, and a change in mood or sleeping habits have also been associated with Lyme disease. After several weeks of being infected with Lyme disease, approximately 60 percent of those people not treated with antibiotics develop recurrent attacks of painful and swollen joints. Fewer than one out of ten Lyme disease patients develop heart problems, which may present as an arrhythmia, or irregular heart beat or block.
Lyme disease diagnosis is made on a combination of suspicious signs and symptoms, followed by laboratory confirmatory testing.
How is Lyme disease treated?
If diagnosed and treated early with antibiotics, Lyme disease is almost always readily cured. Treatment begun after the first three weeks will also likely provide a cure, but the cure rate decreases the longer treatment is delayed. Your health care provider will determine the best course of action for confirming the diagnosis of Lyme disease and for administering the appropriate treatment regimen for the infection.
What should I do if I find a tick on my body?
First, remove the tick. Use fine-tipped tweezers to grasp the tick as close to the skin's surface as possible. Pull upward with steady, even pressure. Don't twist or jerk the tick as this can cause the mouth-parts to break off and remain in the skin. Avoid squashing the tick because spreading tick blood in the bite wound might increase the risk of infection. Once the tick is removed, clean the area with soap and water and perhaps an antiseptic. If you develop a rash, headaches, pains or fever, call your doctor right away.
How can I prevent Lyme disease?
Obviously, the best way to avoid Lyme disease is to not pick up the infected ticks in the first place. When you are outdoors, wear clothes that do not expose skin, and that can act as a barrier to the ticks. Flip-flops, sandals, shorts and a T-shirt are not recommended when planning a hike to areas that are likely to have ticks. Instead, wear boots, and long socks, and remember to tuck your pants into your socks went hiking. The best chemical protection against ticks consists of permethrin-treated clothing and gear, combined with DEET applied to exposed skin.
Keep in mind that most ticks need to feed for 24-48 hours before they can successfully transmit infections. So, it is very important that after hikes you do a full body check (including in the hair) to look for ticks. If ticks are removed promptly, before they become engorged with blood, infection is unlikely.
If you have additional questions about Lyme disease or suspect you may have contracted Lyme disease, we recommend you talk with your physician immediately.
*Photo credit:
Reported Cases of Lyme Disease - United States, 2010. United States Centers for Disease Control and Prevention. Available at:

http://www.cdc.gov/lyme/resources/ReportedCasesofLymeDisease.pdf

Erythema migrans, or "bull's-eye" rash of Lyme disease. Source: CDC, Public Health Image Library (PHIL) image ID# 9875