Find a Pest Control Professional
Jumping Spiders
Salticidae
What Do Jumping Spiders Look Like?
Pest Stats
Color
Usually black, sometimes brown, tan, or gray, and usually with pale markings.
Shape
Compact with relatively short legs
Size
Adult body length about 1/8 – ¾" (4-18 mm)
Region
Found throughout the United States
Jumping spiders are commonly mistaken for black widow spiders due to their compact black bodies with relatively short legs. However, jumping spiders can also be brown, tan or gray in color with pale white, gray, yellow, red, blue or green markings. Adult jumping spiders range in size from about 1/8-3/4" (4-18 mm) and are typically covered in dense hairs or scales that are brightly colored or iridescent. Their front legs are usually thicker and somewhat longer than their other legs.
Adult zebra spiders have gray bodies with white markings on their front and abdomen. Their legs are white or brown with gray rings, resembling a zebra. Female zebra spiders are 3/16-1/4" (4.3-6.4 mm), while males are 1/8-1/4" (4-5.5 mm).
In general, jumping spiders have the best vision of any spider species, being able to detect and react to movement up to 18" (45 cm) in distance. However, their night vision is very poor. They have eight eyes in three rows. The front row has four eyes with a very large middle pair.
Signs of an Infestation
The most common sign of a jumping spider infestation is seeing the spider itself. Jumping spiders will usually be found hunting around windows and doors because more insects are attracted to those areas.
Jumping Spider Habits
Find a Pest Control Professional
How to Get Rid of Jumping Spiders
Need to know how to get rid of jumping spiders? If a jumping spider is found indoors, remove it with a vacuum and dispose of the vacuum bag outside. Contact a licensed pest control professional if you suspect a jumping spider infestation. A pest control professional will conduct a thorough inspection of the home or building and properly identify the spider species.
When it comes to preventing contact with jumping spiders, it's important to eliminate the primary ways that these spiders can enter the home. Most often, jumping spiders enter through wall cracks or poorly screened windows and doors. Make sure to seal wall openings with a silicone-based caulk, and properly screen windows and doors. Watch this video to learn the proper technique to patch a screen. Another way that jumping spiders may gain entrance into the home is by accidentally hitchhiking inside boxes, grocery bags or other items that are brought from the outside in. Inspect these items before bringing them into the home to reduce the risk of a jumping spider infestation. For more tips on spider control, click here.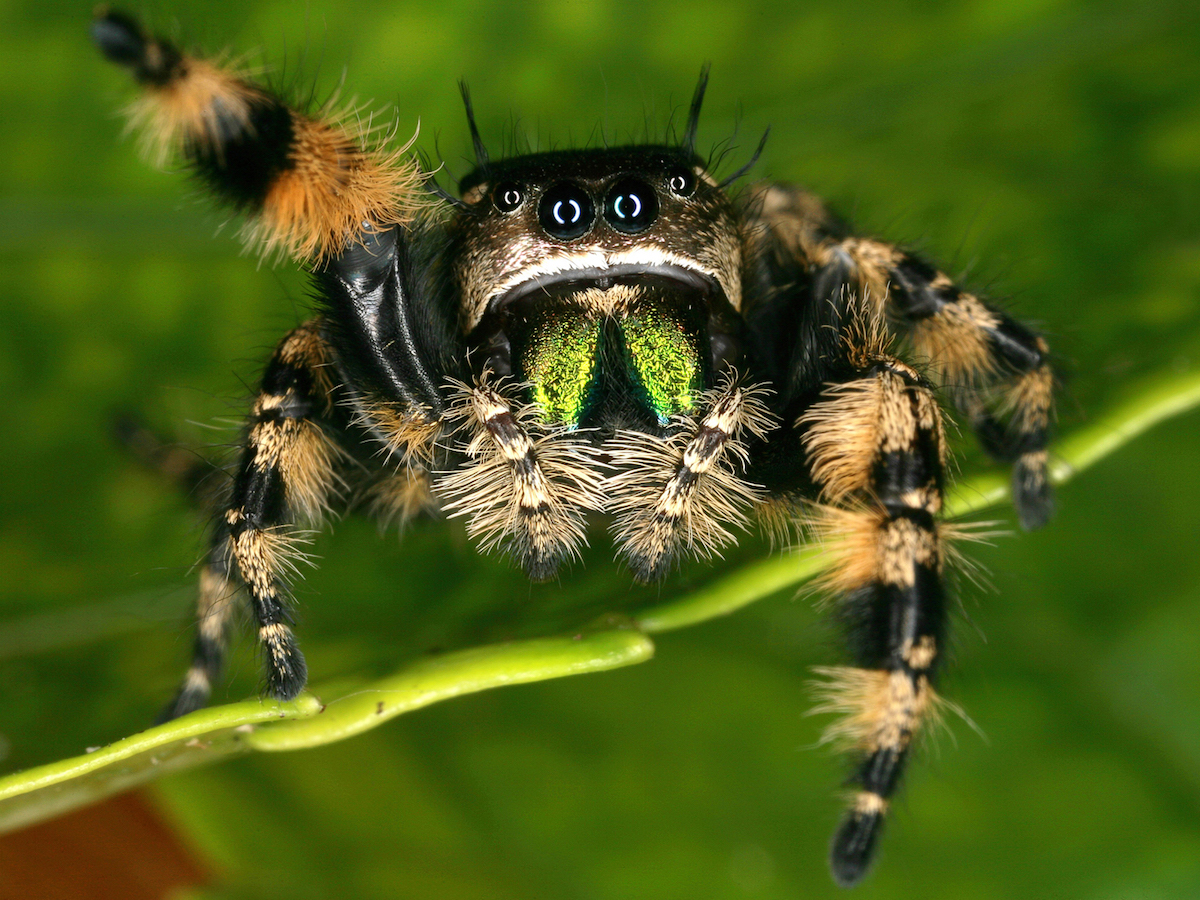 While they can bite, the jumping spider bite is not poisonous. They are not considered dangerous.