Find a Pest Control Professional
Buyers Beware
The importance of a wood-boring pest inspection when buying a home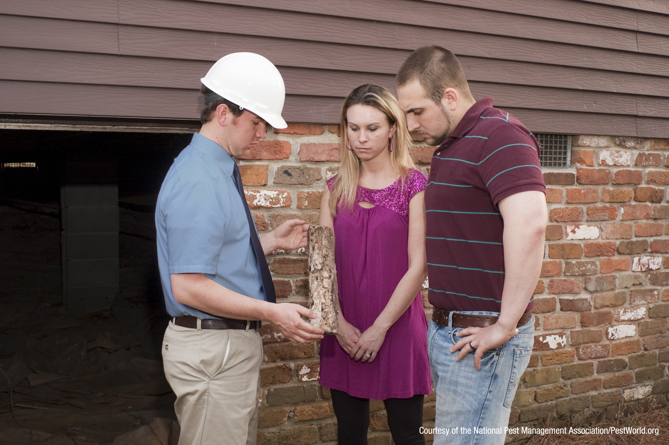 When prospective buyers tour a new home, they tend to focus on the cosmetic updates they'll need to make if they purchase the house. From outdated fixtures and appliances to unappealing paint colors or landscaping, buyers often initially measure a home's value by its curb appeal, or lack thereof. What they may not consider are the potentially serious issues lurking beneath the surface, such as termites and other wood-destroying insects that can silently consume a home's wood and cause major property damage.
Termites cause more than $5 billion in property damage each year, and are known as "silent destroyers" because of their ability to chew through wood, flooring and even wallpaper undetected. Unless a buyer knows what to look for, termites can be hard to find with the naked eye and therefore it could take three to eight years before the signs of an infestation are apparent. To avoid getting stuck with extensive damage that is typically not covered by homeowners insurance, buyers should always request a wood-boring pest inspection before finalizing the purchase of a home.
A termite or wood-destroying insect inspection is different from a standard home inspection that assesses the condition of the physical structure and systems of a home from the roof to the foundation. While buyers should absolutely be sure to schedule a standard home inspection before closing, they should also consider a specific termite inspection by a licensed pest professional. These inspections usually last about an hour, during which the termite management specialist will probe the home from the attic or crawl space to the basement for telltale signs of termite damage, infestation and conditions conducive to infestations, such as cracks, crevices and moisture. Afterwards, the inspector will issue a report and if an infestation has been found, an estimate of the cost to remediate the situation.
When purchasing a home, it is always best to know exactly what one is getting into ahead of time. By proactively scheduling a termite inspection, buyers can feel confident that they have all the facts before making such a big decision. Any repairs that are needed could also be negotiated with the seller prior to closing.
After buying a home, homeowners should consider scheduling a professional inspection annually, or at least once every 3-5 years, according to the American Society of Home Inspectors. Also, keep the following termite prevention tips in mind:
Keep it dry:

Repair leaking faucets, water pipes and AC units which are on the outside of the home. Keep basements, attics and crawl spaces well ventilated and dry. Direct water away from your house through properly functioning downspouts, gutters and splash blocks.

Avoid providing harborage:

Store firewood at least 20 feet away from the house and 5 inches off the ground. Keep mulch at least 15 inches from the foundation.

Know the signs:

Routinely inspect the foundation of your home for signs of mud tubes (used by termites to reach a food source), cracked or bubbling paint and wood that sounds hollow when tapped. Monitor all exterior areas of wood, including windows, doorframes and skirting boards for any noticeable changes.
A home is often the single largest investment a person will ever make. Homebuyers should arm themselves with as much information as possible about the existing home so they can make informed decisions for their families.
If you suspect a termite infestation, or to have your home properly inspected for termites, visit our Find a Pro page to find a pest control professional in your area.