Find a Pest Control Professional
Unseasonably Warm Fall, Followed by Excessive Snowfall in Winter Creates Perfect Storm for Increased Vector Pest Pressure
National Pest Management Association names 10

pest-prone

cities to

its

Vector Sectors™ list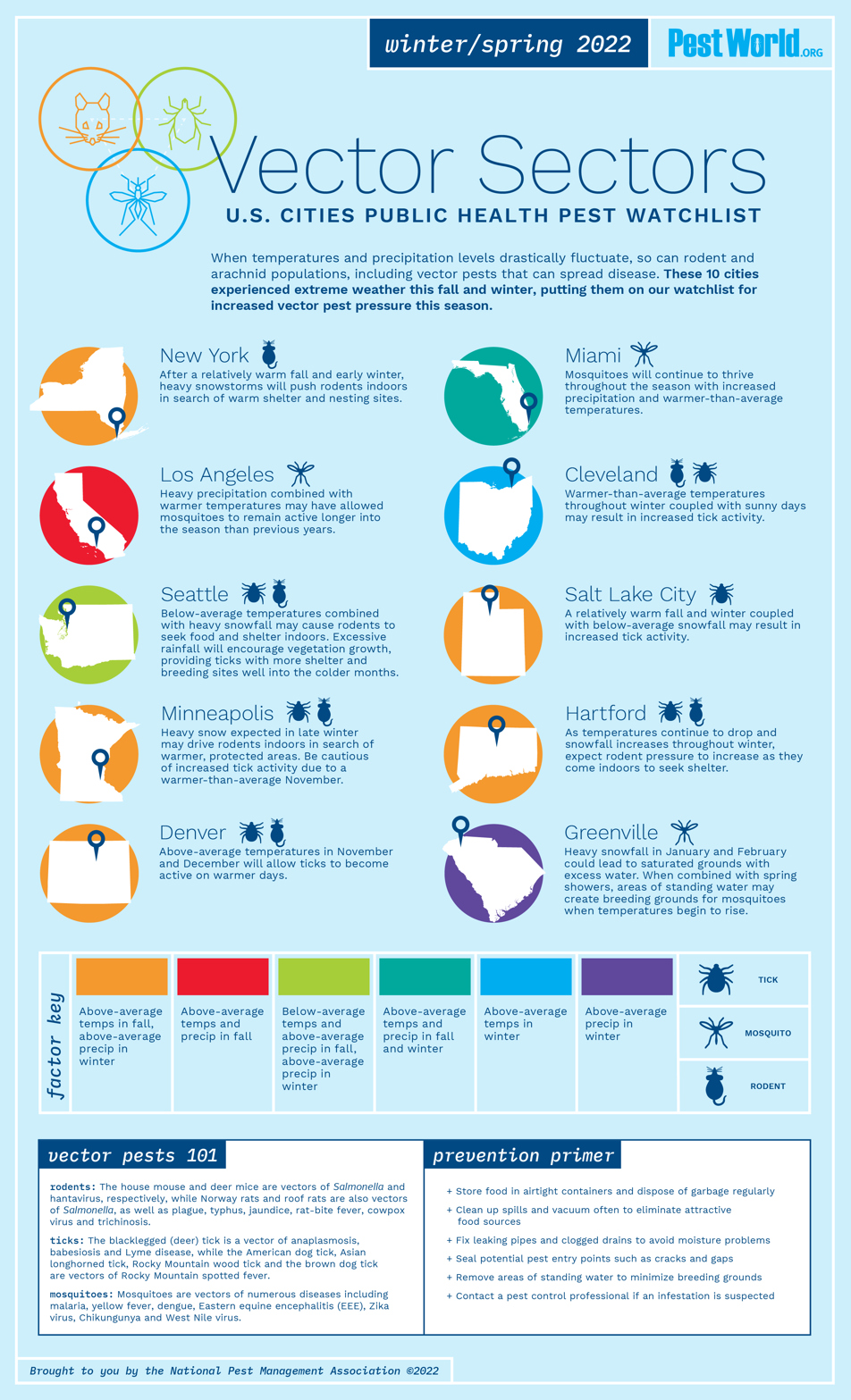 FAIRFAX, VA (February 16, 2021) – The National Pest Management Association (NPMA) today released its bi-annual Vector Sectors™ list of the top 10 U.S. cities with the greatest risk for increased pest pressure from vector pests for the remainder of winter and into spring. It is typical to see spikes in rodent pressure during the cool fall and winter months, but experts warn warmer fall and winter days may contribute to increased tick and mosquito pressure this season.  
"Most of the country experienced an unseasonably warm fall, even seeing record highs for November and December in some areas. While the mild weather may have been welcomed by those who loathe the bitter cold, it allowed pest populations to thrive much longer than they normally would, creating the opportunity for increased vector pest pressure this spring," said Jim Fredericks, Ph.D., chief entomologist for the NPMA. "However, intense snow and ice storms in late January and February are likely sending rodents into homes in search of shelter and food."  
Ticks, mosquitoes and rodents are known threats to public health. Notorious vectors of Lyme disease, ticks can also spread anaplasmosis, babesiosis and Rocky Mountain spotted fever. Mosquitoes can spread the potentially deadly West Nile virus and Eastern equine encephalitis (EEE) to humans and rodents are known to spread more than 35 diseases including Salmonellosis, Hantavirus and plague.  
The top 10 U.S. cities* named to the National Pest Management Association's Vector Sectors list include: 
Cleveland: Warmer-than-average temperatures throughout winter coupled with sunny days may result in increased tick activity. 
Denver: Above-average temperatures in November and December will allow ticks to become active on warmer days. 
Greenville: Heavy snowfall in January and February could lead to saturated grounds with excess water. When combined with spring showers, areas of standing water may create breeding grounds for mosquitoes when temperatures begin to rise. 
Hartford: As temperatures continue to drop and snowfall increases throughout winter, expect rodent pressure to increase as they come indoors to seek shelter.  
Los Angeles: Heavy precipitation combined with warmer temperatures may have allowed mosquitoes to remain active longer than previous years. 
Miami: Mosquitoes will continue to thrive throughout the season with increased precipitation and warmer-than-average temperatures.  
Minneapolis: Heavy snow expected in late winter may drive rodents indoors in search of warmer, protected areas. Be cautious of increased tick activity due to a warmer-than-average November. 
New York: After a warm fall and early winter, heavy snowstorms will push rodents indoors in search of shelter and nesting sites.  
Salt Lake City: A relatively warm fall and winter coupled with below-average snowfall may result in increased tick activity. 
 Seattle: Below-average temperatures combined with heavy snowfall may cause rodents to seek food and shelter indoors. Excessive rainfall will encourage vegetation growth, providing ticks with more shelter and breeding sites well into the colder months. 
*Listed in alphabetical order, no numeric ranking. 
To limit encounters with pests, the NPMA recommends removing sources of standing water in and around the home, including fixing leaky pipes and clogged drains and sealing entry points such as cracks or gaps where plumbing pipes and utility lines enter the structure. Be sure to clear all gutters and downspouts of debris as water accumulation provides ideal conditions for pests to breed.

When spending time outdoors, regularly check clothing, skin and pets for ticks. Wear long pants and sleeves when possible, along with bug repellent containing at least 20 percent DEET to limit exposure to mosquitoes. Also, be sure to refrain from wearing fragrant perfumes and opt for light-colored clothing to make spotting ticks easier. 
If pests become a problem, be sure to contact a licensed pest control professional to help properly identify and treat infestations.  
For more information on NPMA's Vector Sectors list and to learn more about protecting against common household pests, visit PestWorld.org. 
###  
About the National Pest Management Association 
The NPMA, a non-profit organization with more than 5,500 members, was established in 1933 to support the pest management industry's commitment to the protection of public health, food and property from the diseases and dangers of pests. For more information, visit PestWorld.org or follow @PestWorld on Facebook, Twitter, Pinterest and YouTube.