Find a Pest Control Professional
New Survey Finds Bed Bug Infestations Spike During Summer Months
The National Pest Management Association and the University of Kentucky find nearly all U.S. pest professionals have treated bed bugs in the past year
FAIRFAX, Va. (May 20, 2015) – The National Pest Management Association (NPMA) and the University of Kentucky today released the results of their biennial Bugs Without Borders survey, which surveys U.S. pest professionals on the prevalence of bed bugs in Americans' daily lives. The 2015 survey found that bed bug infestations in the United States continue at high rates, with 99.6 percent of respondents having treated for bed bugs in the past year. That number – which has been consistent for the past few years – is significantly higher than 15 years ago, when only 25 percent of pest professionals reported treating for bed bugs.
"Our survey has found that residential settings and hotels continue to be the top places where pest professionals are finding and treating for bed bugs," said Missy Henriksen, vice president of public affairs for NPMA. "As summer travelers eagerly visit destinations, new and familiar, it's important to remind them that the best way to stem the spread of bed bugs is to be vigilant during and after their trip."
Henriksen added, "Being aware of surroundings while staying in hotel rooms and utilizing public transportation, as well as carefully inspecting luggage and clothes upon return from vacation, can go a long way in ensuring bed bugs don't follow them home."
Below are the top five findings from the 2015 Bugs Without BordersSurvey: 
Nearly all (99.6 percent) pest professionals have treated bed bugs in the past year, unchanged from 2013, but higher compared to five, 10 and 15 years ago.
The top three places where pest professionals report finding bed bugs are apartments/condominiums (95 percent) and single-family homes (93 percent) and hotels/motels (75 percent). Past surveys have shown these environments to consistently be the top three where bed bugs have been encountered.
However, bed bugs are also found seemingly everywhere else and in higher numbers, such as nursing homes, college dorms, offices, schools and daycare centers, hospitals, public transportation and others:
Nursing homes – 58 percent (46 percent in 2013)
Office buildings – 45 percent (36 percent in 2013)
Schools and day care centers – 43 percent (41 percent in 2013)
Hospitals – 36 percent (33 percent in 2013)
Doctor's offices/outpatient facilities – 33 percent (26 percent in 2013)
Transportation (train/bus/taxi) – 29 percent (21 percent in 2013)
Retail stores – 20 percent (15 percent in 2013)
Movie theaters – 16 percent (10 percent in 2013)

NOTE: Percentages denote professionals reporting treating bed bugs in specific locations.
In addition to the environments above, pest professionals also report finding bed bugs in some very unusual places, results which illustrate how problematic this pest really is: A prosthetic leg; in a casket with a deceased body; vent above the bathtub; dance club; 911 Call center; and in a tow boat on the Ohio River.  Bed bugs remain the most challenging pest to treat according to 68 percent of survey respondents, slightly lower than the 76 percent who said so in 2013, showcasing the industry's greater understanding of ways to effectively combat bed bugs.
Although not a seasonal pest, 61 percent of respondents said they received more calls at certain times of the year. Of those, two-thirds (66 percent) said summer was the busiest season. People may unknowingly be transporting more bed bugs back home during the summer due to increased travel, use of public transportation and hotel stays compared to other times of the year.
In addition to releasing the results of the latest Bugs Without Borders survey, NPMA has designated June 7-13, 2015 as Bed Bug Awareness Week to help educate the public about this difficult-to-treat pest.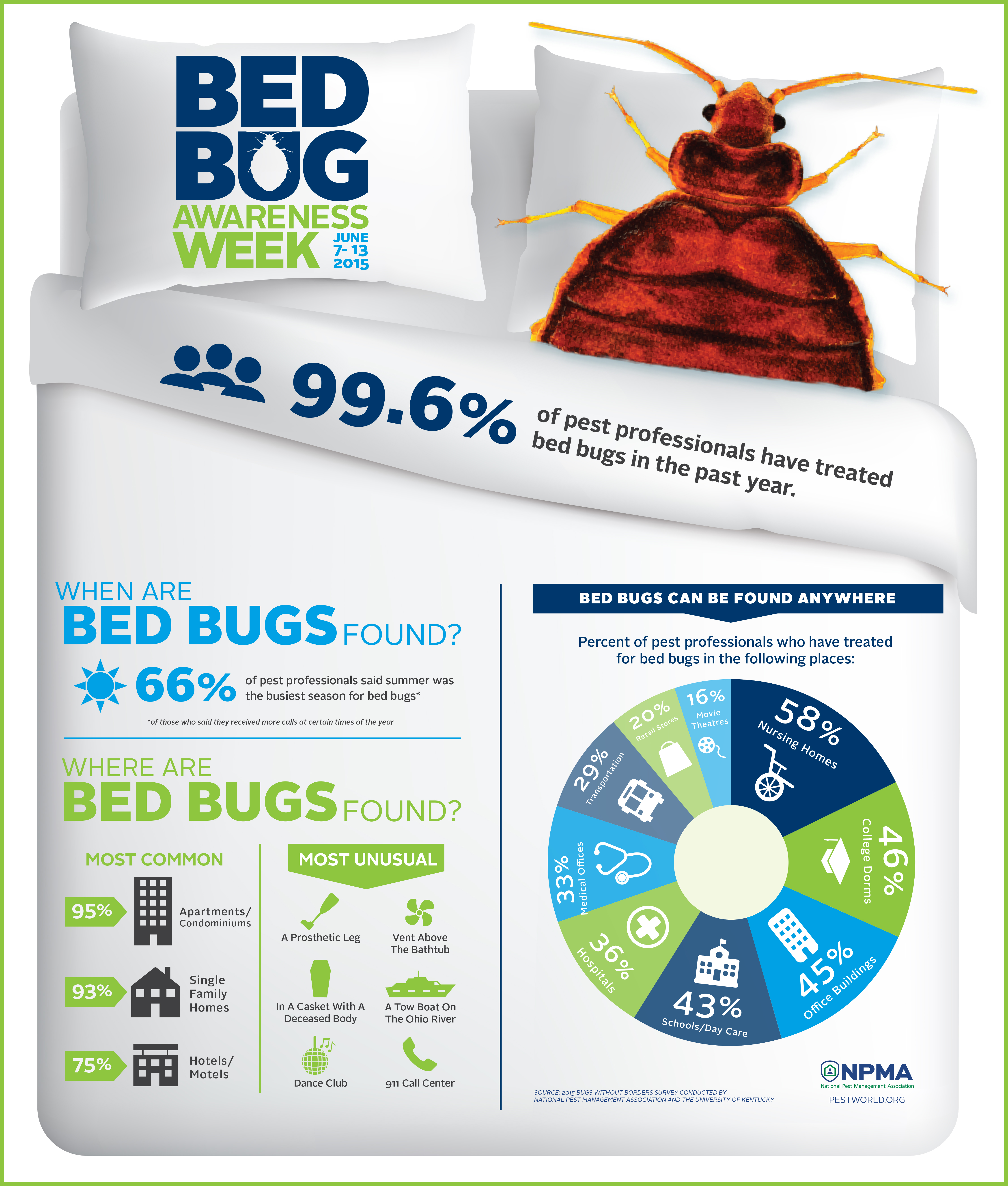 More information can be found at AllThingsBedBugs.org, NPMA's resource on everything bed bug related, from prevention tips to current news. 
The NPMA, a non-profit organization with more than 7,000 members, was established in 1933 to support the pest management industry's commitment to the protection of public health, food and property. For more information, visit PestWorld.org.
###