Find a Pest Control Professional
Deck the Halls with Pest-Free Decorations
Quick tips to protect your home from holiday pest problems
FAIRFAX, VA (December 6, 2017) – Homes across the country are bursting at the seams during the holidays with family, food and fun. As invitations to holiday gatherings are sent out, the National Pest Management Association (NPMA), a nonprofit organization committed to protecting public health, food and property from the diseases and dangers of pests is reminding hosts to stay vigilant when preparing and decorating for the holidays to ensure elusive, unwanted pest guests aren't invited as well.
"There are numerous routes for pesky insects, spiders and even rodents to invade homes during the holiday season," said Cindy Mannes, vice president of public affairs for the NPMA. "I've heard many a tale of hundreds of spiders hatching from inside a beautifully decorated Christmas tree, or mice infesting family holiday keepsakes. Knowing how to prevent against bringing these pests indoors will help save you unneeded holiday drama."
NPMA recommends these simple holiday pest-proofing tips:
Inspect Live Greenery Thoroughly
Spiders, mites, moths and other pests love live greens such as trees, wreathes and garland. These types of decorations provide the perfect harborage for pests — and their eggs. Before bringing anything indoors, homeowners should shake all live greenery outside, and inspect all branches very carefully.
Unpack Carefully
Boxes of decorations stored for long periods of time, especially those in attics, basements and garages can easily become infested. When bringing items out of storage, be sure to unpack boxes outside first, as insects and rodents can find their way into boxes kept in undisturbed areas throughout the year. Check items for signs of a potential problem like gnaw marks and rodent droppings, and be sure to discard anything questionable.
Store Properly
To save time, money, and energy next holiday season, give yourself a head start on proper decoration storage to mitigate the chances of a future infestation. Use sturdy, hard plastic containers with secure lids. An airtight seal will preserve decorations and protect against insects and rodents.
Store Wood Smartly
Firewood should be thoroughly inspected before being brought in the home, as pests like spiders, termites, and ants can easily hitch a ride on logs. When storing firewood for future use, be sure to keep piles at least 20 feet from the home on a raised structure such as concrete blocks to prevent pests from easily crawling into woodpiles.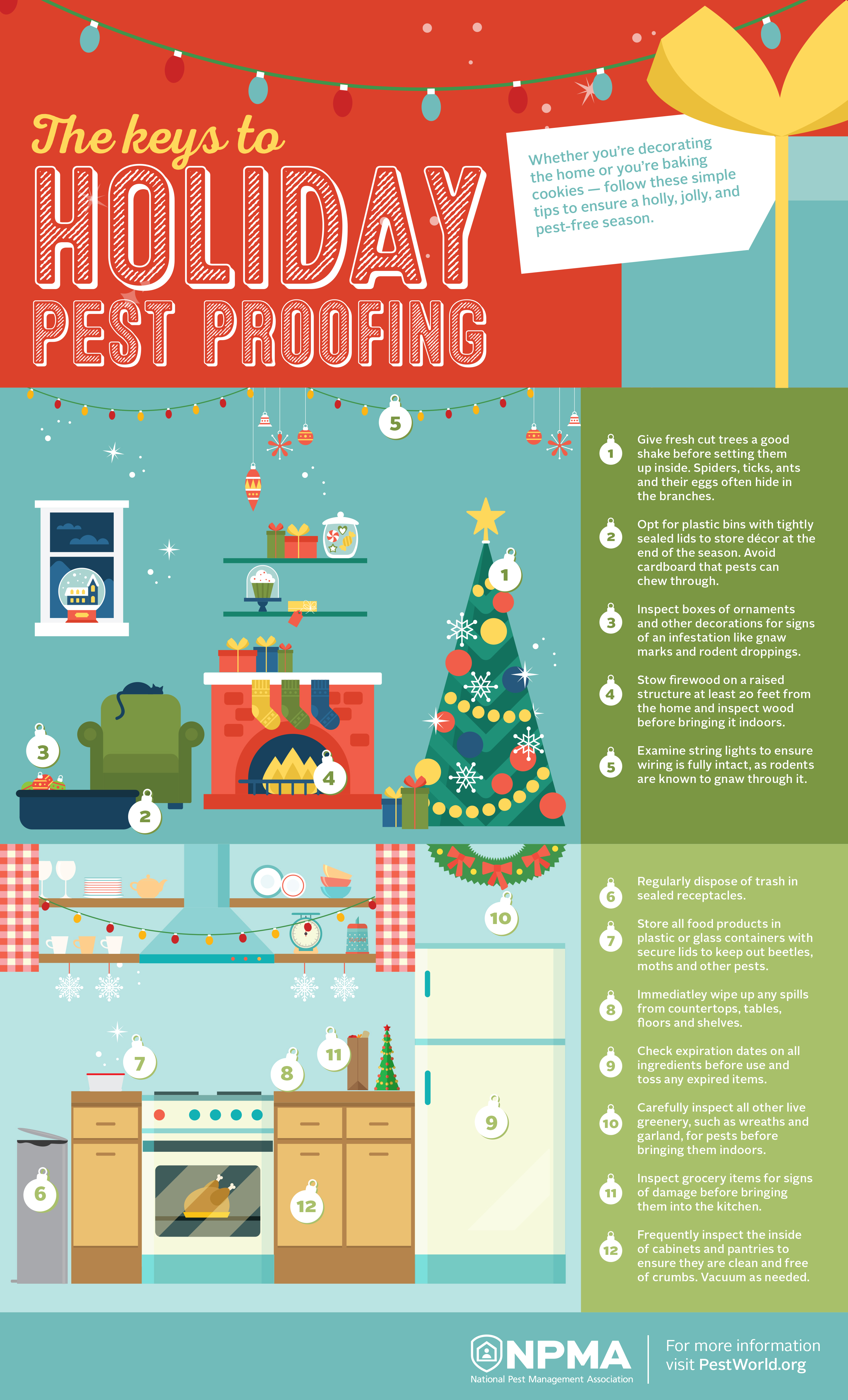 For more advice on how to keep pests out of your home or to find a licensed pest control professional, visit PestWorld.org and follow @PestWorld on Facebook for other helpful tips.
About the National Pest Management Association
The NPMA, a non-profit organization with more than 6,000 members, was established in 1933 to support the pest management industry's commitment to the protection of public health, food and property from the diseases and dangers of pests. For more information, visit PestWorld.org or follow @PestWorld on Facebook, Twitter, Pinterest and YouTube.