Find a Pest Control Professional
Exploring America's #1 Nuisance Pest
Ant Infestations are on the Rise, National Pest Management Association Survey Reveals
FAIRFAX, Va. (April 19, 2012) – "Exploring America's #1 Nuisance Pest," conducted by the National Pest Management Association (NPMA) and Dr. Laurel Hansen of Spokane Falls Community College and Washington State University, has found that ant infestations are on the rise across the country. The study, which surveyed U.S. pest professionals, found that 100 percent of respondents treated ant infestations in the past year, and that the most prevalent species found were carpenter ants, odorous house ants and pavement ants.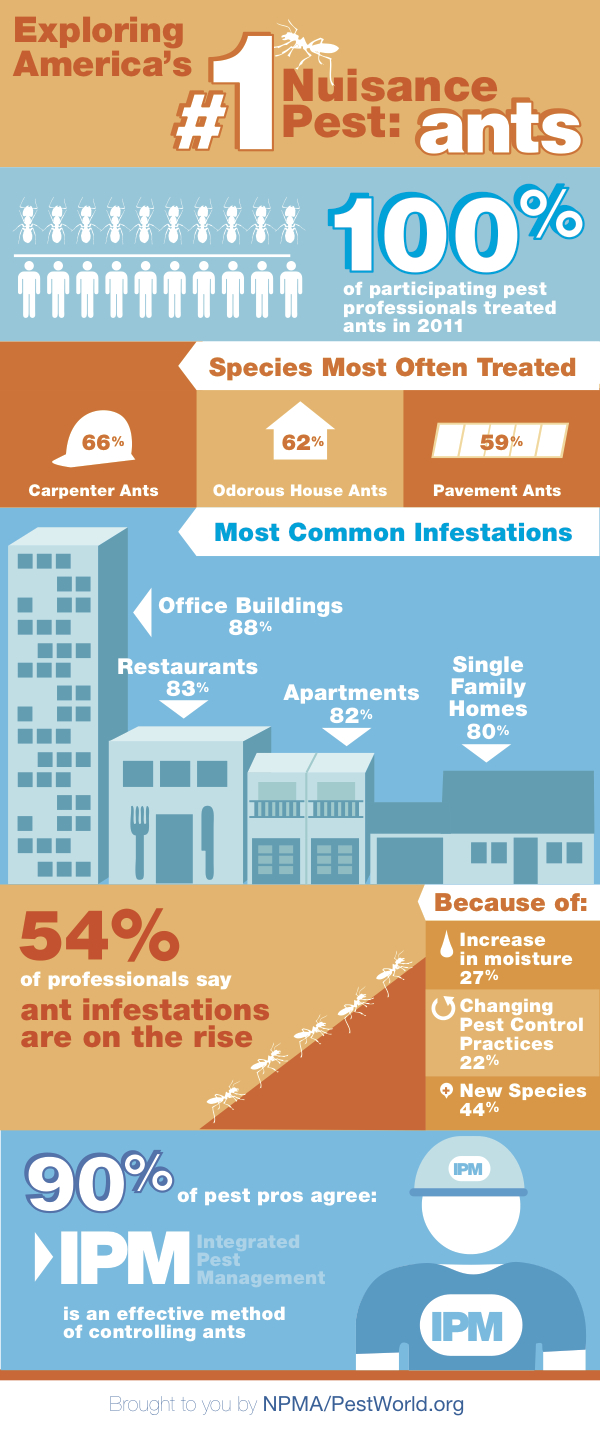 "Ants have long been a nuisance pest, but the prevalence of carpenter ants is especially concerning. Carpenter ants tunnel through wood and nest inside homes, which can compromise a property's structural stability." said Missy Henriksen, vice president of public affairs for NPMA. "Fortunately, our survey also shows that pest professionals have great success in treating ant infestations of all kinds through Integrated Pest Management, which utilizes a three-part practice of inspection, identification and treatment."
Here are several key highlights from "Exploring America's #1 Nuisance Pest":
Every participating professional treated ant infestations in 2011.Most treated several hundred infestations, while some treated many more. Carpenter ants (66%), odorous house ants (62%) and pavement ants (59%) were treated most often. Infestations were most common in office buildings (88%), restaurants (83%), apartments and condos (82%), and single-family homes (80%).
Ant infestations are on the rise.More than 5 out of 10 (54%) of pest professionals report ant infestations are growing. Reasons include an increase in moisture (27%), changing pest control practices (22%) and new species (44%).
Integrated Pest Management (IPM) works.While one out of three pest professionals (33%) considers ants to be the most difficult pest to control, nine out of ten agree that IPM is an effective method of controlling ants. IPM is a process involving common sense and sound solutions. The most popular include clearing shrubs and other vegetation from the base of a structure (82%) and cleaning up crumbs and spills whenever possible (81%).
For a full summary of findings, as well as tips for how to prevent ant infestations, visit www.Pestworld.org.
The NPMA, a non-profit organization with more than 7,000 members, was established in 1933 to support the pest management industry's commitment to the protection of public health, food and property.

###